Signs of aging may occur first around the eyes. Eyelid surgery performed by James M. Shaw, MD, a board-certified plastic surgeon, can provide long-lasting improvement to your upper face. Many individuals start to show changes in their 40s, while the natural aging process for other patients starts even sooner. Often, family history and genetics play a role in the onset of these changes. Frequently there are complaints of "looking tired" all the time, despite feeling energetic and well-rested. Dr. James Shaw can perform eyelid surgery to refresh the delicate region around your eyes, allowing you to look brighter, less stressed, and more youthful.
Depending on the nature of your concerns, Dr. Shaw can perform upper and/or lower eyelid surgery to smooth the eyelid contours and help you achieve your goals. He can also address functional problems, such as overhanging excess skin drooping into your line of sight.
Explore Topics on this Page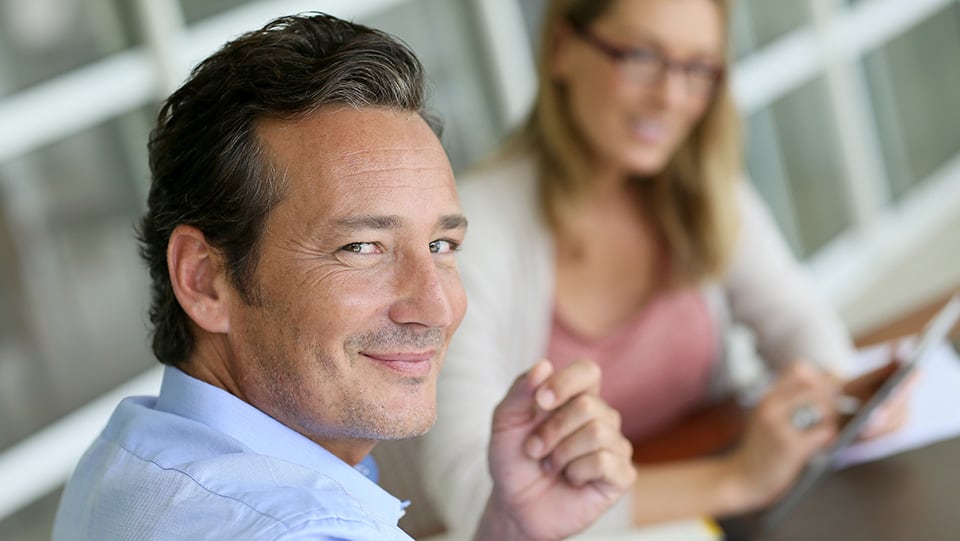 What Are the Benefits of Eyelid Surgery?
Upper and lower blepharoplasty can often have positive effects on your entire appearance. By addressing tissue that has grown stretched out or inelastic over time, eyelid surgery can give you a brighter look while still maintaining the natural character of your face. Depending on your reasons for surgery, an eyelid lift can:
Correct upper eyelid "hooding," reducing puffiness and removing any obstructions to your vision
Tighten excess sagging skin
Smooth eye bags below the lower eyelids
Improve the appearance of dark circles under the eyes
Enhance the look of "tired eyes" overall
In order to achieve the best result, other treatments may be performed in conjunction with (or in lieu of) eyelid surgery. In some cases, sagging eyebrows can hang down and worsen the appearance of your upper eyelids. This "hooding" of the outer portion of the eyebrow can be common among patients, and may not be corrected with eyelid surgery. If sagging brows are causing a "hooded" effect, a brow lift or forehead lift may be a more effective treatment option. Wrinkles may also be best treated with laser resurfacing depending on the circumstances. Prominent lines in the corners of the eyes, or "crow's feet" are usually best treated with BOTOX® Cosmetic, but rest assured our team will develop a treatment plan personally tailored to your needs and concerns.
What Are the Different Types of Eyelid Surgery?
Upper Blepharoplasty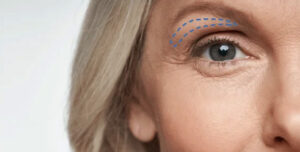 Upper eyelid changes are mostly caused by skin laxity. Sometimes there can be a bulging fat pad on the inner aspect of the upper eyelid, next to the nose. In addition, there can be drooping and descent of the outer half of the eyebrow area, which contributes to the skin crowding down on the upper eyelid.
Eyelid surgery to remove excess skin on the upper eyelid provides an instant result. The incision is placed within the natural crease of the upper eyelid to disguise any scarring within the natural contours of the eyes. When performing this procedure, Dr. Shaw takes care to avoid removing too much skin. Excessive skin removal would make normal blinking difficult. Therefore, it's better to leave a tiny bit extra than to take away too much.
Lower Blepharoplasty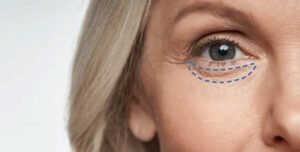 With the lower eyelid, there is a combination of three factors that give the appearance of aging. One is a bulging of the fat pads always present behind the eyelid. At a young age, support for these fat pads is stronger and keeps the tissue in position. Over time, the support weakens and the fat bulges forward. Secondly, the loss of fat in the "tear trough" area can cause signs of aging. In youth, there is enough fat at the lower eyelid/cheek junction so that everything is smooth. You can't tell where the eyelid stops and the cheek starts. With normal aging, this fat goes away and a crease develops. The last factor is thinning and wrinkling of the skin, which can be remedied with non-surgical treatments like laser skin resurfacing.
How Is the Eyelid Surgery Procedure Performed?
Eyelid surgery can be performed either with a patient sedated or asleep via general anesthesia. Either method would be utilized under the supervision of a board-certified anesthesiologist. You will need a responsible adult to drive you home following surgery. When removing excess skin and fat, Dr. Shaw will typically be conservative. Overaggressive eyelid surgery can lead to an unnatural appearance. For volume loss at the tear trough area, fat grafting can be performed to accompany blepharoplasty. This involves removing a small amount of fat from the abdomen or hip and injecting the fat into the area that needs more volume and fullness. Unless the patient is elderly, it is uncommon to remove skin from the lower eyelids. This skin can be smoothed and tightened with laser resurfacing using a CO2 laser.
What is Recovery From Eyelid Surgery Like?
Eyelid skin is very thin and tends to have more bruising and swelling when compared to other facial areas. It is best to keep the head of the bed elevated for the first few days and to keep cold packs on the eyes as much as possible. Sleep in a recliner or use several pillows to raise your back, shoulders, and head. Try not to sleep on your side, or one side may swell more than the other. Some patients prefer to use a horseshoe shaped airplane type pillow to avoid turning to the side.
Eyelid surgery is usually not very painful. Time off from work depends how comfortable you are with having visible bruising and swelling. It typically takes about 10 days for these reactions to subside. Many patients use glasses or sunglasses and are able to be out running errands after a few days. Strenuous activity and exercise should be avoided for the first two weeks. Wearing contact lenses may be uncomfortable for the first week or two after eyelid surgery.
How Much Does Eyelid Surgery Cost?
Eyelid surgery can range from less than $3,000 for the most simple treatment plan to about $6,500 for a combination of procedures. These prices include fees for the anesthesiologist and surgery center. In general, the cost of cosmetic surgery can vary according to many factors, including the geographic location of surgery, the experience of your plastic surgeon, and the details of your treatment plan. A personalized cost estimate will be provided based on:
Whether upper and/or lower blepharoplasty were performed
The surgical techniques utilized
The addition of any adjunctive treatments, such as fat grafting or brow lift surgery
The overall complexity of surgery
While some insurance companies may provide coverage if your vision is obstructed by "hooding," blepharoplasty is generally not covered by insurance. That said, qualified patients can still make their procedure more affordable through financing options like CareCredit®. Our office would be happy to discuss financing and payment information with you after your consultation.
Do you have questions about eyelid surgery? The team at Shaw Plastic Surgery can help. Please contact our Wichita practice today for more information, or to schedule a consultation.