Medical-grade skin care products offer a variety of benefits for both women and men looking to achieve more radiant, youthful-looking skin. The high-quality, professional-strength products available at our practice utilize innovative formulations to effectively rejuvenate both the health and appearance of the skin. Many of these options are developed based on intensive research into which combinations of anti-aging ingredients and skin health agents can truly provide effective protection, renewal, and noticeable enhancement.
Below you will find descriptions of some of the more popular products available from our board-certified plastic surgeon, James M. Shaw, MD, and our team here at Shaw Plastic Surgery. If you would like to schedule a consultation to develop a customized at-home skin care regimen, please contact us today.
Explore Topics on this Page
Shaw Formula
Shaw Formula is our private label that includes advanced skin care products capable of addressing numerous common skin conditions. Many of these products can be added to a regular at-home skin care routine to help enhance skin health and protection, as well as to give the skin a more vibrant and youthful appearance.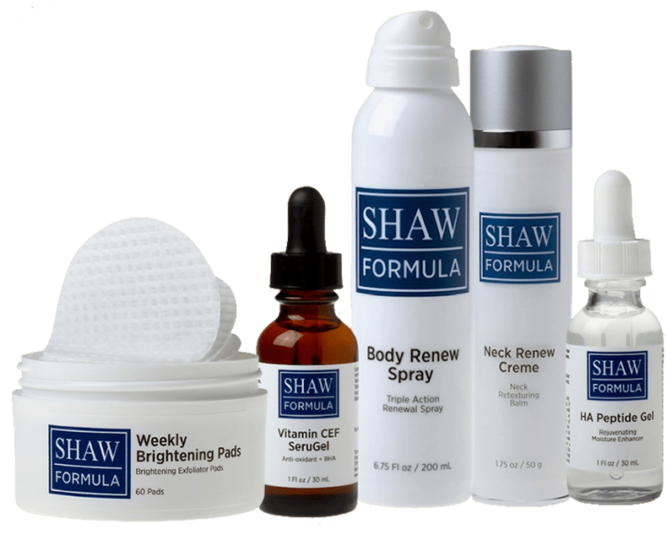 Weekly Brightening Pads
Weekly Brightening Pads are designed to provide a once-a-week exfoliation and brightening treatment that you can perform at home. The pads utilize a combination of natural lactic, phytic, and azelaic acids to produce an ideal amount of exfoliation and brightening. Weekly Brightening Pads can be used to help extend the outcomes of plastic surgery and cosmetic enhancement procedures, or they can simply be used as a complement to your regular medical skin care regimen.
NiaSmooth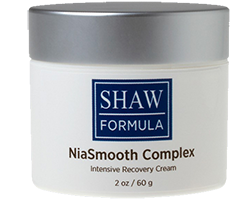 NiaSmooth Complex can be a good solution for individuals affected by dry skin. This moisturizing cream infuses the skin with hydration and Vitamin B3, which can help those with normal or sensitive complexions address dry, flaky skin. Vitamin B3 has also been shown to help minimize signs of photoaging and redness while improving skin texture.
Brightening Cream
Improve areas of uneven skin tone caused by excessive sun exposure with our bold Brightening Cream. Potent brightening agents such as Kojic acid along with Vitamin C, Vitamin E, and Green Tea antioxidants combine with a gentle exfoliator to enhance skin tone and reveal a more refreshed and radiant appearance.
Vitamin CEF SeruGel
Vitamin CEF SeruGel is an antioxidant + BHA solution that can be an ideal complement to a skin care regimen that relies on retinoid applications. Ingredients in Vitamin CEF SeruGel include a unique combination of Vitamins C and E, along with Ferulic acid ester and keratolytic salicylate. This solution can be used on the nights that you're not applying retinoids, providing the skin with micro-exfoliation and antioxidant benefits.
Acne Pads
Daily Acne Pads can be applied 1 to 2 times each day to the face and other body areas. The pads combine 0.5% salicylic acid with other gentle acids to help treat acne and exfoliate the skin.
HA Peptide Gel
The HA Peptide Gel is a rejuvenating moisture enhancer that can hydrate, firm, and smooth the skin. This solution's blend of hyaluronic acid and peptides can help produce collagen, elastin, and keratin. HA Peptide Gel is non-greasy and lightweight, and can be an ideal option for individuals who are prone to the development of acne.
Skinbetter Science®

skinbetter science® bases its product formulations on years of extensive clinical research into solutions that can stimulate the skin's natural collagen and produce firmer, smoother, more youthful results. Many of the skinbetter science® options include a hyaluronic acid component, which is the main ingredient in numerous injectable dermal fillers. Plus, skinbetter science® is committed to cruelty-free products—the company does not utilize animal testing and its formulas contain no animal by-products.
SkinBetter Science® Online Store
Here are just a few of the skinbetter science® products available here at our practice:
ALPHARET® Overnight Cream Face
The AlphaRet® Overnight Cream for the face is designed to noticeably reduce the size and depth of wrinkles after just four weeks of use. This revolutionary product combines alpha hydroxy acid and a retinoid with an innovative blend of many other anti-aging ingredients that can help nourish collagen, hydrate the skin, and give it a healthier look.
Alto Defense Serum™ FACE
Alto Defense Serum™ FACE utilizes a proprietary blend of 19 antioxidants that can enhance free radicals in the skin, helping it naturally defend itself against redness and signs of age.
AlphaRet® Exfoliating Peel Pads
With AlphaRet® Exfoliating Peel Pads as part of a full skinbetter science® skin care regimen, many individuals can effectively exfoliate their skin and increase the chances of achieving a brighter, smoother, and healthier look. The peel pads are formulated with lactic, glycolic, and salicylic acids to help achieve a softer feel to the skin and a more even appearance.
InterFuse® Intensive Treatment Lines
Designed to help minimize signs of wrinkles and expression lines, this InterFuse® Intensive Treatment solution includes injectable-grade hyaluronic acid components and other high-quality ingredients to support collagen and give the skin a younger and smoother aesthetic.
ALASTIN Skincare®

With ALASTIN Skincare® products, individuals can choose among two innovative product lines designed to improve the skin while addressing an array of common aesthetic concerns. The Procedure Enhancement System offers a line of products that can be effective for enhancing the results of other cosmetic procedures. These options can help prepare the dermis for treatment and increase the skin's receptivity while aiding the healing process and optimizing the final results. ALASTIN Skincare®'s second line of products – Restore & Renew – is geared toward maintaining skin health and youthfulness for as long as possible. Options in the Restore & Renew line can be introduced into your daily skincare regimen to reduce signs of age and help prevent future skin concerns. ALASTIN Skincare® was designed for use by plastic surgeons and dermatologists, and its products are formulated with TriHex Technology®. This blend of botanicals and active peptides works to remove, rebuild, and replenish aged elastin and collagen to keep the skin healthy from the inside out, offering both women and men the ability to achieve a more youthful, rejuvenated appearance.
Alleࠢ™ Rewards (Formerly Called Brilliant Distinctions®)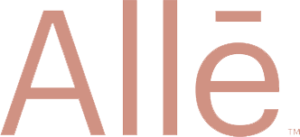 The Allē™ aesthetics loyalty program (formerly called the Brilliant Distinctions® Rewards Program) helps members save on select products and services offered by Allergan. Sign up now and start earning rewards!