What Is CoolSculpting®?

CoolSculpting® is the only FDA-cleared non-surgical fat reduction treatment. Controlled cooling is used to eliminate stubborn fat deposits that are resistant to diet and exercise. The results are proven, readily noticeable, and lasting.
Explore Topics on this Page
What to Expect
During your first visit you will have a one-on-one consultation with the CoolSculpting® clinician. Your clinician will discuss a non-surgical way to approach your goals for reshaping your body. Together, you can focus on specific areas where you want to eliminate fat.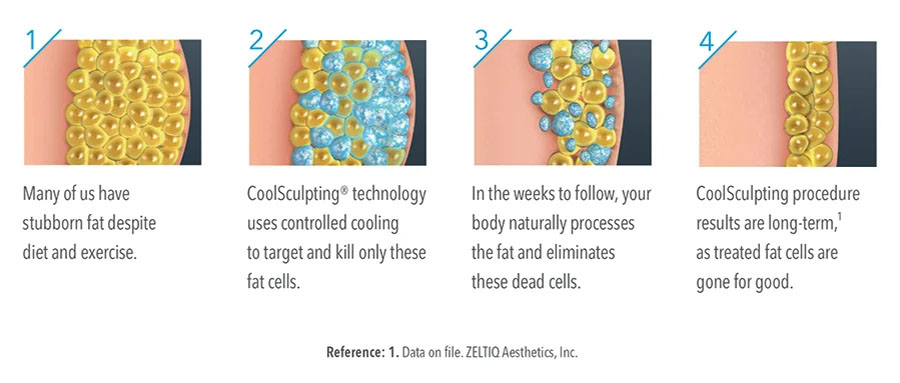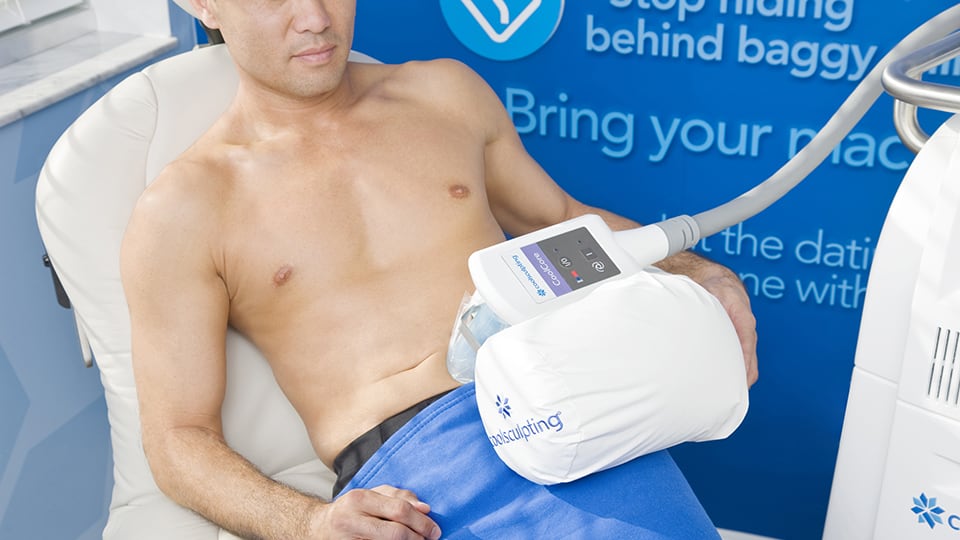 Fat Reduction vs. Weight Loss
In general, when a person is done growing, their bodies have all the fat cells that they will have for their lifetime. We tend to not generate new fat cells during our lives. With weight gain, the existing fat cells will get larger as they store more fat. With weight loss, the fat cells reduce in size. But the overall number of fat cells doesn't change.
With CoolSculpting®, the fat-freezing procedure reduces the number of fat cells in the treated area by about 25%. Your body's natural healing processes eliminate these damaged fat cells. They cannot migrate to other areas of your body. The result is that the fat cells are gone for good. The stubborn fat bulges begin to disappear, leaving a more sculpted you. After CoolSculpting®, your overall weight may not be much different, but you will look slimmer and you will look better in your clothes.
Frequently Asked Questions
Am I a good candidate for CoolSculpting®?

The CoolSculpting® fat-reduction procedure is designed to target unwanted fat in specific areas. CoolSculpting® is not an overall weight loss program and is not a treatment for obesity. Good candidates for CoolSculpting® have noticeable bulges in certain areas that may be resistant to weight loss. Many patients want a non-surgical alternative to liposuction.

How much does CoolSculpting® cost?

The price for CoolSculpting® will vary according to the particular areas of concern, the number of treatments needed and your ultimate goals. Most patients choose to treat multiple body areas. The cost typically ranges between $2000-$4000 for a treatment plan with multiple treatment zones and multiple treatment sessions. Your customized treatment plan will be tailored to your body, your goals, and your budget. Flexible payment plans are also available.

How long is each treatment? How many treatments will I need?

The length of your individual CoolSculpting® treatment plan will vary with the number of areas being treated during one visit. We have the latest technology and the treatment of one zone takes only 35 minutes. Most patients have more than one area treated during the same office visit. Additional treatments can be done on additional office visits in order to meet your goals. Most people read, check email, watch movies or even take a nap during their treatments.

Can the CoolSculpting® procedure reduce fat anywhere on my body?

CoolSculpting® is FDA-cleared for treatment of visible fat bulges in the submental area, thigh, abdomen, flanks, bra-line fat, back fat, and under the buttocks.

Can CoolSculpting® be used to treat my double chin?

Yes. CoolSculpting® can treat visible fat bulges under the chin and contour the neck. Freezing fat from a double chin is just as simple as treating other parts of the body (abdomen, flanks, thighs). Patients typically see a marked improvement in their neck contour after just one or two visits—with no surgery and no down time.

Where does the fat go? Are the results permanent?

The treatment freezes the fat cells, which causes them to die. Then they are naturally processed and eliminated from the body. One treated fat cells are gone, they are gone for good. Your body does not re-generate them.

What does it feel like?

During the first few minutes, you typically feel intense cold. You may feel some pulling as the initial suction is applied. The area is usually numb after about 5 minutes. Most people read, watch TV, work on their laptop or take a nap during their CoolSculpting® treatment. After the treatment, you'll feel some tingling as the area is massaged for 2 or 3 minutes. Most people return to their normal activities immediately following their appointment.

Is the CoolSculpting® procedure safe?

CoolSculpting® is FDA-cleared for treatment of visible fat bulges in the submental area, abdomen, thigh, and flank. It is the #1non-invasive fat reduction procedure and millions of people have been treated worldwide. It is proven to be both safe and effective.

Who should not have CoolSculpting®?

You should not have CoolSculpting® is you have been diagnosed with cryoglobulinemia, cold agglutinin disease, or paroxysmal cold hemoglobinuria. CoolSculpting® is not a treatment for obesity.

Are there any side effects?

During the treatment, you may feel sensations of pulling, cold, tingling or aching. These will subside after a few minutes as the area becomes numb. After the procedure you may have temporary redness, swelling, blanching, bruising, firmness, tingling, itching or skin sensitivity. These effects are temporary and usually resolve within days.

Can I return to normal activities after my treatment?

Yes, you can. CoolSculpting® is completely non-surgical so most people can return to normal activities immediately. Patients often return to work after they leave the office.

I've had my CoolSculpting® procedure. Now what?

Your follow-up appointment will be scheduled before you leave the office. You can always return for additional treatments. Try to maintain a healthy lifestyle. Go out and enjoy your results.

When will I see results?

You may see improvements as quickly as 3 weeks after treatment, and will see the most dramatic results after 2 months. Your body will continue to improve the treated area for 4 to 6 months after treatment.

Do I need to take special supplements or follow a strict diet and exercise program?

No supplements are required after your CoolSculpting® treatment. It is not a diet and exercise program, so you don't need to make changes there. However, most patients do feel motivated to take care of themselves after their treatment. They like how they look and want to take better care of themselves.

What happens if I gain weight after my CoolSculpting® procedure?

After seeing the results, most people feel even more motivated to maintain their weight. However, if you do gain weight, it is less likely to be seen in the treated areas. You may gain it more evenly all over your body. ¹

¹ Data on file. ZELTIQ Aesthetics, Inc.