Breast augmentation is a surgical procedure designed to add volume and enhance the shape of the breasts. Also referred to as breast enlargement or augmentation mammoplasty, this procedure has helped millions of women across the globe renew their appearance with beautiful results. Studies show that over one-third of women are dissatisfied with the appearance of their breasts. Breast augmentation using implants is one of the most commonly performed cosmetic surgeries in America, and throughout the world. Over 300,000 patients undergo breast implant surgery every year in the U.S. Prior to surgery, most patients are self-conscious about the appearance of their breasts. Remarkably, over 90 percent of patients report an improvement in self-esteem following breast surgery. No other cosmetic surgery can match breast augmentation for patient satisfaction (98.1%). On a scale of 1-10, the average patient rated their results as 9.3, with over half giving themselves a 10 rating.
Breast augmentation is one of the most satisfying procedures for the patient due to the instant transformation in a woman's shape. It is an operation where patient gratification is almost immediate and it reliably meets or exceeds expectations. Other types of cosmetic surgery of the face and body may have inherent limitations.
Even mature women can enjoy more youthful-looking breasts with the right combination of implants and breast lifting. If you would like to schedule a consultation with our board-certified plastic surgeon, James M. Shaw, MD, to talk more about breast augmentation, please contact us today.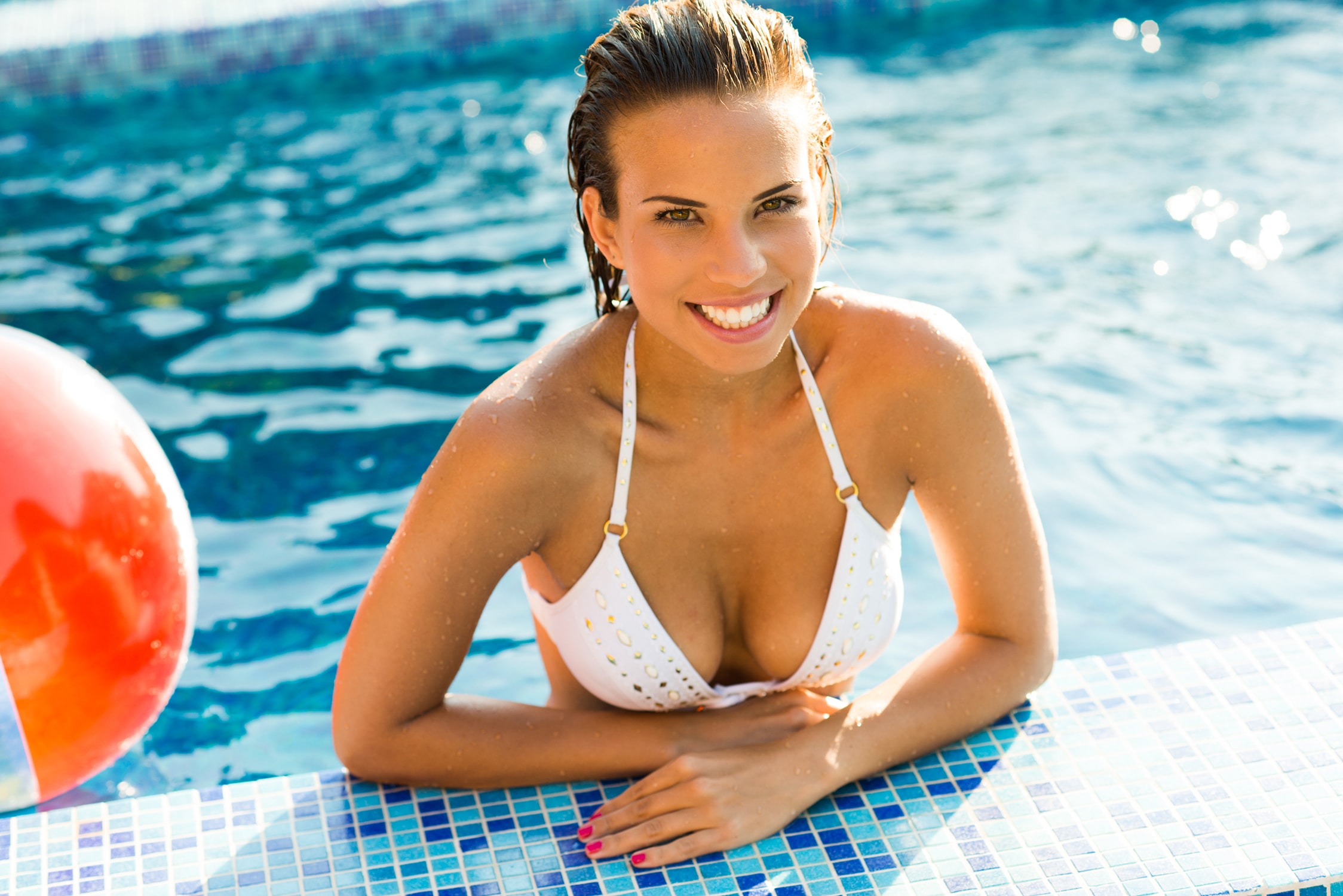 What Are My Breast Implant Options?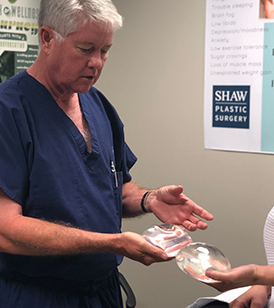 The size of the breast implant is generally determined during the office consultation with our plastic surgeon, Dr. James M. Shaw. Individual measurements will be taken to determine the patient's overall proportions. There is a wide range of available implant volumes and dimensions for breast augmentation. In addition, there are several types of breast implants to choose from, including those filled with silicone or saline, implants that are round or shaped, and breast implants with a smooth surface. The projection profile is also an important consideration.
Patients can use the mobile application Natrelle® 3D to create a 3D image of themselves with their future breast implants in order to get a "preview" of the possible benefits. The app allows people to adjust the size of their implants to see what the prospective outcome may look like. This innovative app can be downloaded from the Apple App Store and the Google Play Store.
Breast Implant Consultation
When you are planning for breast implants / breast augmentation, Wichita plastic surgeon James M. Shaw, MD has extensive knowledge and experience to help you achieve your desired look. For most patients, the goal is to enhance breast volume in a way that is proportional to the patient's body shape and dimensions.
Dr. Shaw is certified by the American Board of Plastic Surgery and has the expertise to help you choose which type of breast implant will help achieve your desired results. At your consultation, you will have the opportunity to review various types, shapes and sizes of breast implants that are available.
Choosing the Right Implant Size
It is very helpful to "try on" several different sizes of breast implants during the examination to get an idea of how the end result will appear. The ideal implant will vary greatly from person to person depending on factors such as height, weight, shoulder and chest width, symmetry, the amount of existing breast tissue, and personal preference. The majority of patients simply want to have their breast size increased to better match their proportions. This change allows them to wear the clothing they prefer without making extra accommodations with specialty bras or inserts.
Silicone Implants vs. Saline Implants
Silicone breast implants are the most popular choice for breast augmentation patients at Shaw Plastic Surgery because they feel softer than saline implants and have a more natural feel. The silicone breast implants that Dr. Shaw uses are not filled with silicone in a liquid form. They contain what is referred to as "cohesive gel." The advantage of cohesive gel breast implants is that even if the outer shell of the implant was damaged, the material inside cannot move around under the skin or migrate to other areas.
Some patients do prefer to use saline breast implants. These devices have the same outer surface as the silicone implants and are filled with saline solution. This is the same fluid found in IV fluid. The saline breast implants cost less than the silicone implants. Saline implants can be more easily felt under the skin and they may be more likely to show visible wrinkling.
Implant Texture
Dr. Shaw can also answer questions you may have regarding the other breast implant choices. We offer smooth, round implants and do not utilize textured devices. In addition, implants are available in a wide range of sizes and projection profiles. While the options may seem overwhelming, Dr. Shaw has experience with all of these breast implant types and can help you to select the implant that is right for you.
Incision Locations
The location of the incisions for placement of the breast implants will also be discussed during your initial consultation. There are essentially three different methods that are most commonly utilized: inframammary, periareolar, and transaxillary. An inframammary incision involves breast implant placement through an incision made in the area on the underside of the breast where it meets the chest. In the periareolar approach, Dr. Shaw will create an incision in the areola, which is the dark-pigmented region that surrounds the nipple. For transaxillary breast augmentation, the implant is inserted via a small incision made in the armpit (this technique can only be utilized with saline breast implants since the implant cannot be filled until it is already placed).
The best incision location is dependent on each individual patient's anatomical needs and ultimate goals. Rest assured that, regardless of the location, Dr. Shaw is extensively skilled with this procedure and places a strong focus on producing results that will yield as minimal visible scarring as possible.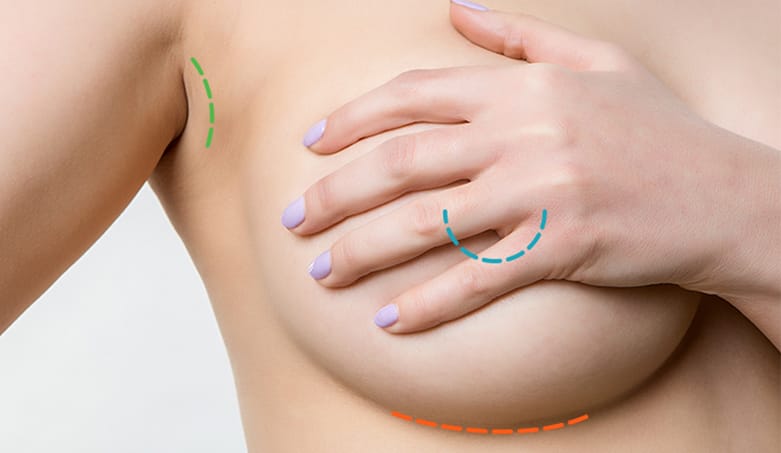 Patient Results
Will My Breast Augmentation Results Appear Natural?
Breast augmentation is one of Dr. Shaw's top procedures and he is well-known for his natural-looking results. Selecting a skilled board-certified plastic surgeon is generally the best way to ensure your desired results come to fruition. Breast enhancement can be either subtle or more voluptuous depending on your wishes and goals for the procedure. Trying on different implant sizes during your consultation will help you understand how a given size will affect your silhouette, and we encourage you to explore our breast augmentation before-and-after photos to get an idea of how natural breast implants can appear.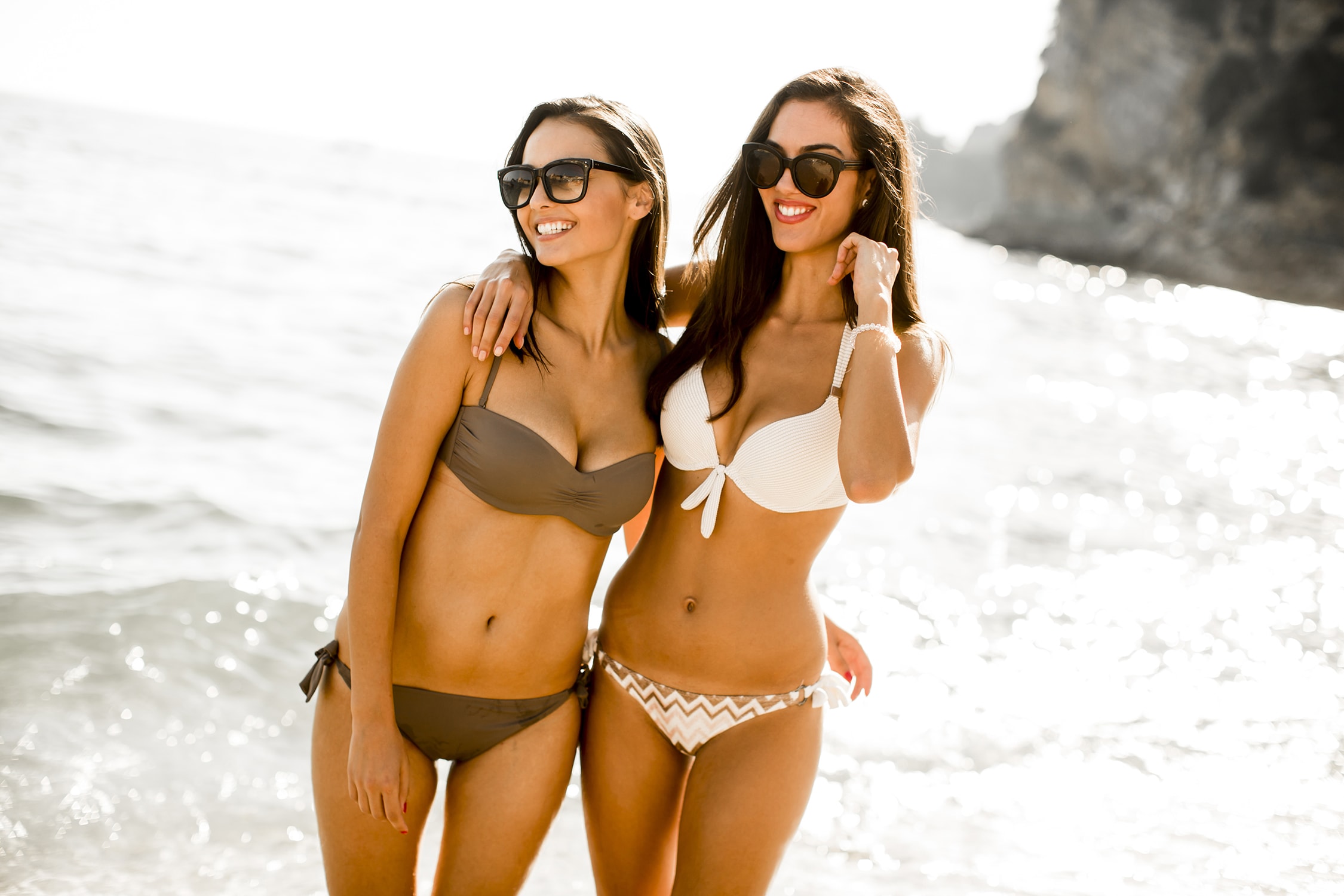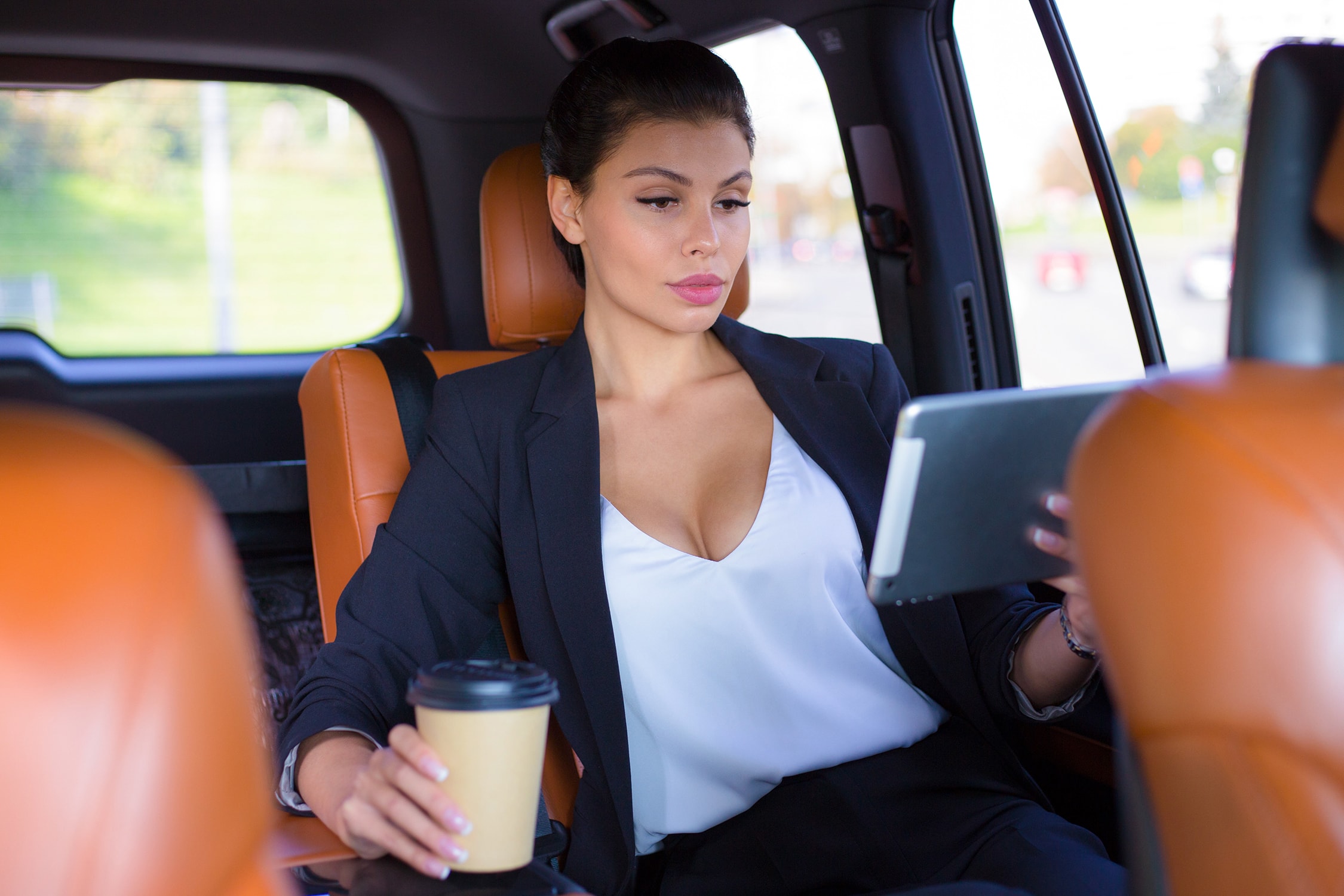 CAN I STILL BREASTFEED WITH BREAST IMPLANTS?
If you are able to breastfeed before receiving breast implants, you should still be able to breastfeed following augmentation surgery (assuming the procedure is performed safely and correctly by a board-certified plastic surgeon). It's important to remember that not all women are able to breastfeed, even before surgery. If you believe you may want to nurse in the future, we encourage you to discuss your desires with Dr. Shaw so he can develop an appropriate treatment plan to help preserve the ability to breastfeed.
There is a slight risk of milk gland disruption when an areolar incision is used to place the implants, although the probability of this happening is extremely low. Certain techniques — such as employing an inframammary incision and/or positioning implants below the muscle — can often be used to decrease the possibility of interfering with milk glands. From an aesthetic standpoint, we generally recommend getting breast implants only after you have no future plans for pregnancy or breastfeeding. Having children after a procedure can change the shape and contours of your chest, potentially altering your breast augmentation results.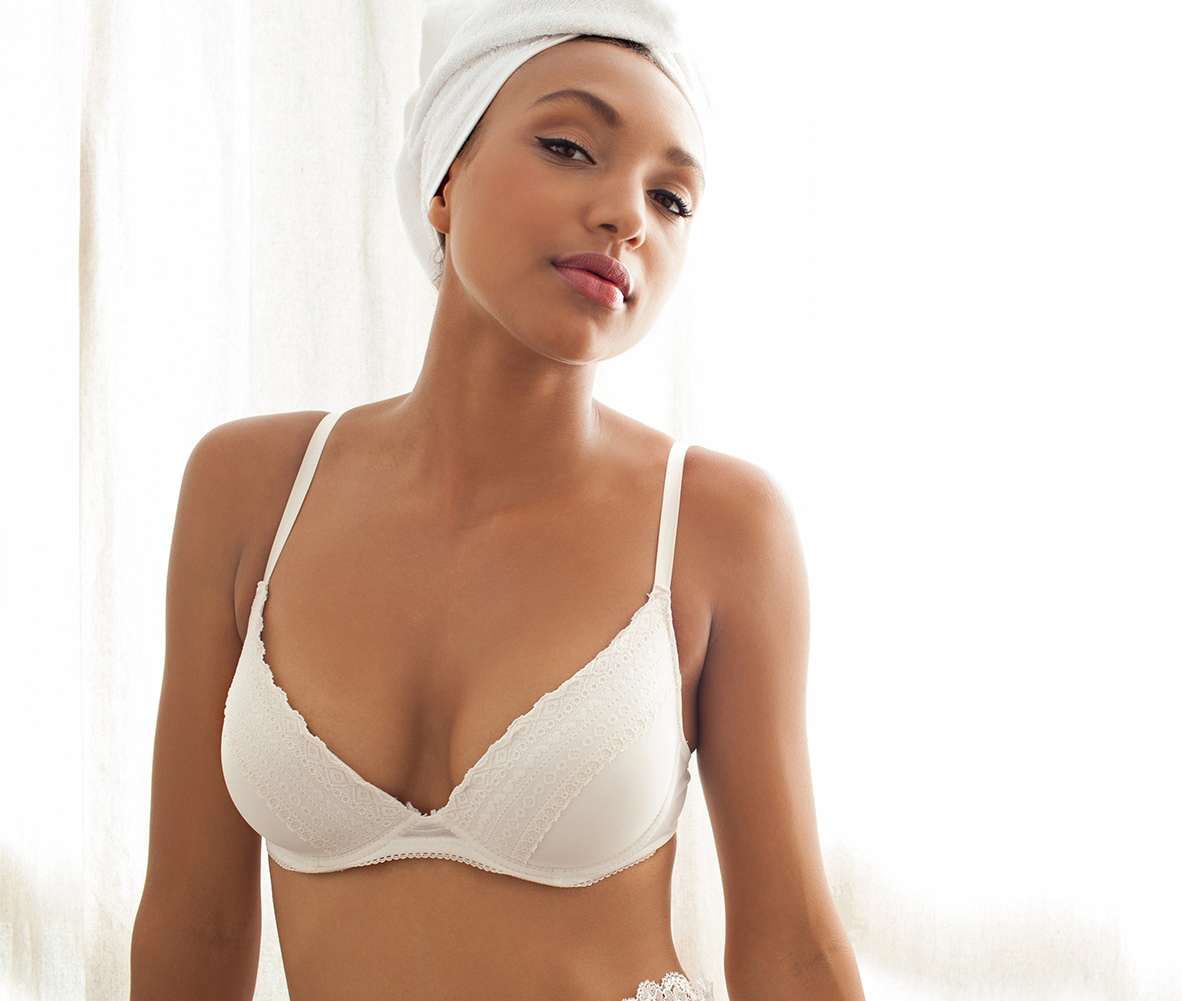 What are the Most Common Breast Implant Complications?
While capable of achieving excellent results, breast implants are not designed to be lifetime devices. The most common complications associated with breast implants include:
Rippling: Implant rippling is marked by the ability to see or feel the edges of an implant through the skin. This may occur if a patient doesn't have enough natural breast tissue to provide coverage for their implants. Fortunately, the risk of implant rippling can be reduced by placing implants under the chest muscle (submuscular placement). 
Capsular Contracture: Capsular contracture is defined as the hardening of an implant's scar capsule, sometimes causing pain, tightness, and discomfort for patients. While some extent of scar tissue formation is to be expected, capsular contracture can cause distortion in the look or feel of your breasts when left untreated. 
Rupture: Implant rupture refers to a leak, break, or tear in an implant. This complication is exceedingly rare, and silicone implants may not exhibit visible signs of rupture. With saline implants, the saline solution is harmlessly absorbed by the body in the event of rupture. 
These concerns can be addressed with breast revision, a secondary breast augmentation procedure designed to treat complications and/or upgrade your implants to a different size or type. We encourage you to reach out to our team if you have any questions or concerns about the longevity of your breast implants. 
CONTACT US
Would you like to learn more about our advanced breast augmentation procedures? Please contact us today with any questions you may have, or to schedule a consultation with Dr. Shaw. We look forward to hearing from you!